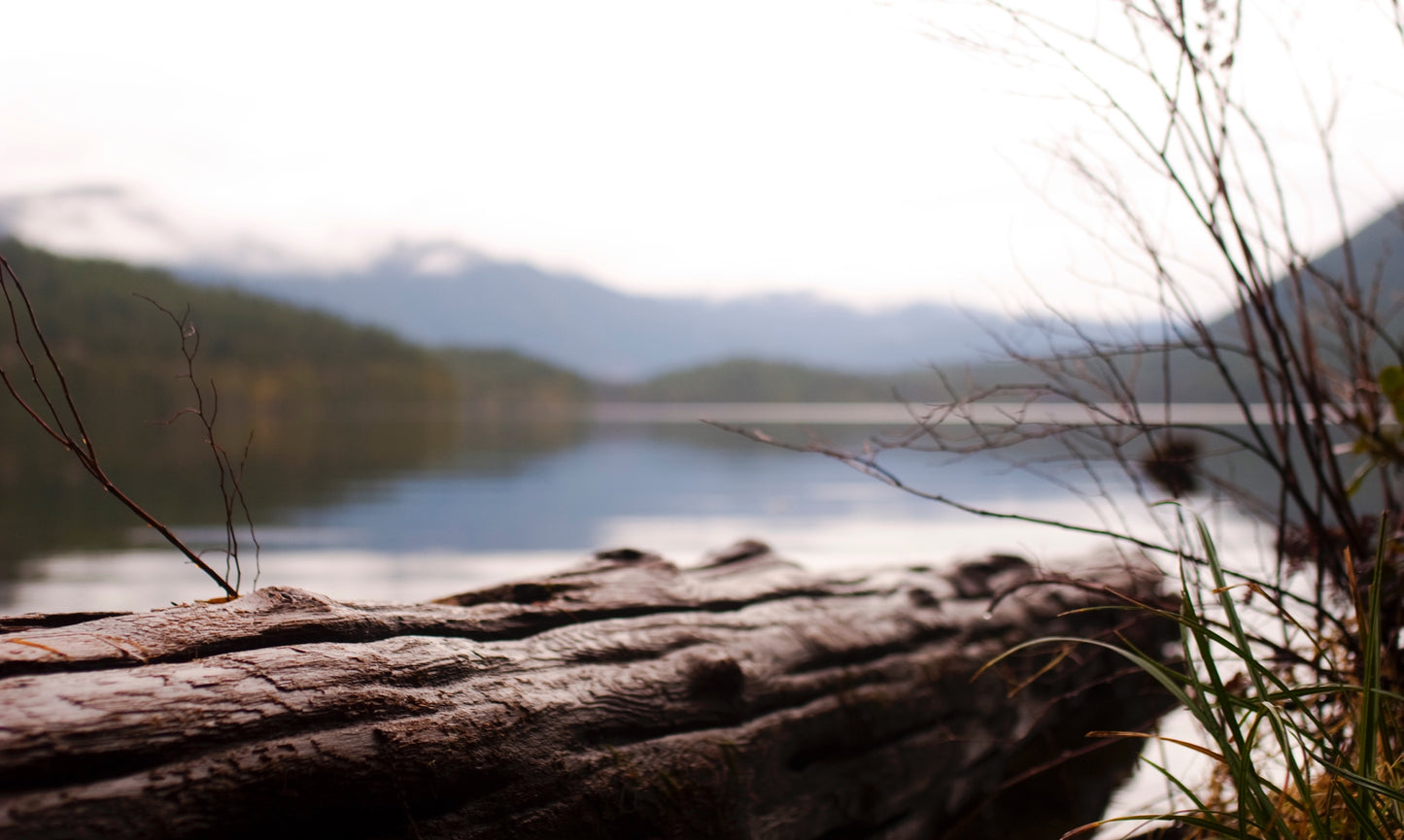 Since the launch of 32 Lakes Coffee Roasters in 2012, folks have been curious about the origin of the name – 32 Lakes – myself included.
So, when I went searching for an answer, it came as no surprise that the owners of 32 Lakes Coffee Roasters love…lakes! With both Margot and Nathan Jantz being big water enthusiast from a young age, they were instinctively drawn to Powell River in awe of the area's infinite beauty, and its endless bodies of water.
I can say from personal experience that I wholly understand this concept, as I moved to Powell River just a decade ago myself.
For those who may be unfamiliar with the area, Powell River and the surrounding qathet Regional District (qRD) covers an expansive and diverse geographical terrain. The area sits on the traditional territory of the Tla'amin First Nation, and includes a handful of islands, such as Savary Island, Texada Island, and Lasqueti Island.
Powell River and the qRD is known for plenty of impressive and unique characteristics: its proximity to Desolation Sound, its 180km-long Sunshine Coast Trail (and accompanying 12 huts), and its community events like the Prisma and Kathaumixw festivals (to name a few). But the inherent beauty of Powell River and qRD doesn't stop there.
One of the lesser-known facts about Powell River is the bounty of lakes that the qathet region is home to. According to a document provided by the the qRD there are 32 lakes, 2.7km around or larger, hiding inside the 5000 square kilometers of tall-treed mainland backcountry, tucked away among mountains and old growth forest, fed by alpine glaciers and underground springs.
What's even more amazing is that, in addition to the 32 lakes reaching this size perimeter, there are more than 60 additional bodies of water in the qathet region –  with some as small as half a kilometer around and appearing more like a bog or marsh.
As an avid hiker and explorer of the Tla'amin territory and qRD, I was shocked to learn this number – 32 – as it seems to add yet another layer of wonderment to the joys of living in this dazzling coastal community.
It seems that I have my appreciation in common with Margot and Nathan; with such an extraordinary abundance of water sources, they couldn't help but name their blossoming venture after the qRD's aquatic phenomenon, as an ode to their fresh new community and its boundless backcountry. And so, 32 Lakes Coffee Roasters was born.
Fast forward a decade: the appreciation and adoration that these owners/founders have for their community is still strong and steadfast, as is the pride they have for their adopted hometown.
"The best part about choosing a name that pays homage to Powell River, Tla'amin, and the qRD is getting to tell the 32 Lakes story" says Margot. I can understand this. Boasting on behalf of this small, isolated, diamond-in-the-rough town comes naturally to its residents, and these local coffee-roasting enthusiasts are no exception.
If this post has left you curious about the 32 lakes of the Powell River and qRD, here's a list of the 32 lakes referenced in the 32 Lakes Coffee Roasters' name, including the perimeter measurements in meters:
1. Powell Lake 201335m
2. Lois Lake 64297m
3. Haslam Lake 50035m
4. Dodd Lake 19805m
5. Goat Lake 22657m
6. Khartoum Lake 16339m
7 Horseshoe Lake 20376m
8. Inland Lake (Loon) 13662m
9. Unwin Lake 11963m
10. Sliammon Lake 8863m
11. Emma Lake 6696m
12. Nanton Lake 7757m
13. Windsor Lake 6017m
14. McVey Lake 5342m
15. Lewis Lake 6092m
16 Hammil Lake (West) 4294m
17. Duck Lake 4451m
18. Freda Lake 5275m
19. Jenna Lake 3589m
20. Confederation Lake (Pearson) 3889m
21. Cranberry Lake 3347m
22. Priest Lake 4876m
23. Olsen Lake 2870m
24. High Falls Lake 3098m
25. Walt Lake 3300m
26. Carol Lake 2905m
27. Boyle Lake 2846m
28. Cranby Lake 5977m
29. Homfray Lake 2495m
30. Giavanno Lake 3635m
31. Derwent Lake 2286m
32. Ireland Lake 2689m
About Cowgirl Grammar
Shauna Andrews, the writer behind Cowgirl Grammar, is a freelance content and copyeditor with an MFA in Creative Writing from the University of British Columbia. She has been long listed for the 2021 CBC poetry prize, and published in literary periodicals including The Malahat Review, Portal Magazine. and Incline Magazine.